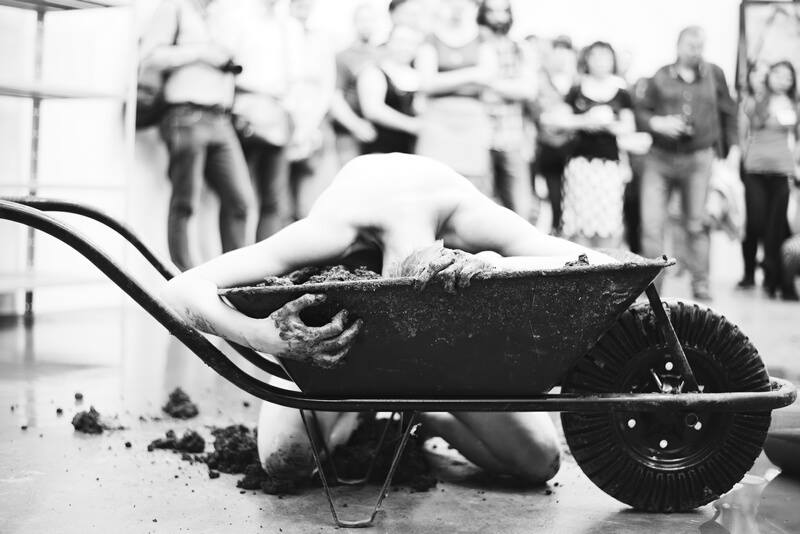 Marta Ostajewska
marta.ostajewska@gmail.com
Marta Ostajewska (º1980, Poland) performer and visual artist, PhD researcher at the Academy of Fine Arts in Krakow and at the University of Warsaw (Artes Liberales). Her M.A. in Multimedia Design was received from School of Arts in Ghent. She graduated also at the University of Lodz (Theory of literature). Her artistic activities were presented in several galleries and at the international theater's stages: Croxhapox Gallery, Campo Victoria, Nieuwpoorttheater, NTGENT in Ghent, Rozentheater in Amsterdam, The Manhattan Gallery, Prexer, Factory of Art, Gallery Kobro, Posiadło Ksiezy Mlyn, Free Space Gallery in Lodz, Articule Gallery in Montreal, Industra Gallery in Brno. She has participated in many international projects, among others, in the artistic residency Human Hotel: Copenhagen in Denmark and in the international festivals (BIO50 in Ljubljana, RIAP2014 in Quebec City, Canada, PAB2015 in Bergen, Norway). She is co-chief editor of the artistic magazine Woof Woof Arf Arf. She publishes her artistic works and theoretical texts related to the modern art scene, site-specific art and performance art on the international stage.
Education:
2013- … PhD researcher, Intermedia Design (Performance Art) – The Academy of Fine Arts in Krakow (Poland). The research related to 'site-specific performance art'
2005-2010 Master of Arts (with Honors) in Multimedia Design (Performance Art and Theater) – The School of Arts (KASK) in Gent. Excellent final grades
1999-2004 Master of Arts (with Honors) in Polish literature – Polish philology studies, University of Lodz. Excellent final grades
Residences, scholarships, awards:
I-XII 2014 ARTISTIC SCHOLARSHIP FROM THE MINISTER OF CULTURE AND NATIONAL HERITAGE in Poland for the project FILL in
I-XII 2014 ARTISTIC SCHOLARSHIP FROM THE MAYOR OF ŁÓDŹ in Poland for the project Hard Shoulder – stories underfoot (performative walking)
IV-XI 2013 FACTORY OF ART in Lodz – the animation movie and the exhibition Księży Młyn implemented from the CULTURAL GRANT from the Marshal of Lodz (with Justyna Apolinarzak and Suavas Lewy)
VI 2013 WOOLOO.ORG, The residency program Human Hotel: Kopenhagen in Denmark with the site-speific project: Public in private – bus stop in your room!
Curator, director, performer:
XI 2017 KAZIMIERZOWSKI PALACE in Warsaw, Language diversity around the world, curator of the photo exhibition
XI 2017 BUW in Warsaw, Language diversity: a world of cultural abundance, curator of the photo exhibition
XI 2017 ART GALLERY WOZOWNIA in Toruń, Black Hole, curator of the exhibition
X 2017 PAB OPEN 2017 in Bergen, Norway, site-specific performance besides
X 2017 KSIEZY MŁYN in Lodz, Poke, Slice, End of a Hassle!, director of the soundwalk
X 2016 DUŻY POKÓJ in Warsaw, WIPAW Warsaw International Performance Art Weekend, performance inside: diffusion
V-IX 2016 KSIĘŻY MŁYN, project Balloon Gum, the site-specific actions on the posindustrial district in Lodz (Plant Bombs – creating plants bombs and guerrilla flower beds in May, picnics Factory in June and September, festival of backyard games Baba Jaga looks! in August)
VII 2016 FESTIVAL DOS CANAIS in Aveiro, Portugal, site-specific performance art city-body
VII 2016 THE OLD WINE FACTORY in Agueda, Portugal, Grand Opera (the performance, co-directing the performance and leading the workshops)
IX 2015 THE SUGER FACTORY in Frankfurt an der Oder, Germany, site-specific performance art hideout
IX 2015 PAB2015, Bergen, Norway, site-specific performance art still/kill
IX 2015 KSIEZY MLYN in Lodz, Poland, migration (video-performance, work in progress)
IX 2015 IMAGINARIES 2015, Santa Maria den Feira, Portgugal, If this was my street (leading workshops and co-directing street performance)
IX 2014 RIAP (International Performance Festival) – performance site-specific in Quebec City in Canada
II-IX 2014 BIO 50 (Biennale of Design in Ljubljana) – participation in the international working group Walking the city
XII 2014 KSIEZY MLYN in Lodz, Gas lanterns and carp in breadcrumbs, soundwalk/director and scenario
XII 2014 THE GREY GALLERY in Cieszyn, …after the rain, curator of the exhibitions
X-XI 2014 FACTORY OF ART in Lodz, like mushroom…, curator of the exhibitions
X 2014 KSIEZY MLYN in Lodz, I was born on Szlezyng, soundwalk/director and scenario
IX 2014 ARTICULE GALLERY in Montreal, I can't be dirty when I get back home"/"When you are dirty you cannot get to Canada, site-specific performance art
VI 2014 KSIEZY MLYN in Lodz, Kwela Park, snorkel and carousel, soundwalk/director and scenario
VI 2014 INDUSTRA GALLERY in Brno (Czech Republic), s*cream/s*ilent, site-specific performance art
IV 2014 THE MANHATTAN GALLERY in Lodz, Abdomen, site-specific performance art (walking the main street and go to the channel under the square)
XI 2013 THE CULTURAL CENTER 105 in Koszalin, bring back to life/oblivion, performance art
X 2013 AOIA in Lodz, RAn (Transit), performance art
IV 2013 THE MANHATTAN GALLERY in Lodz, [Pa-da], performance art
X 2011 POSIADŁO KSIĘŻY MŁYN in Lodz, KAMER 303, the theater play
IX 2010 ROZENTHEATER in Amsterdam, KAMER 303, the theater play
VI 2010 NTGENT, KAMER 303, the theater play

Group exhibitions:
V-IX 2017 TEXTILE MUSEUM in Lodz, Final result. A store of sewn designs, video trailer of video performance Migration
III 2017 MANHATTAN TRANSFER GALLERY in Lodz, video performance Red rag, during the group exhibition Women who sit in Lodz
III 2017 GALERIA WSCHODNIA in Lodz, video documentation Stop-motion 3.1. and animation Dream City, the group exhibition of Art and Documentation Association
IV 2013 KOBRO GALLERY in Lodz, Breath
III 2013 FACTORY OF ART in Lodz, House Translocation, chart (2005-2012)
XII 2012 BOOK ART MUSEUM in Lodz, The end of the world-eat me!
XII 2012 THE MANHATTAN GALLERY in Lodz, I, Lodzermensz!
XI 2012 FREE SPACE GALLERY in Lodz, The place of an artist
VI 2009 CROXHAPOX GALLERY in Ghent, The tales have been found – the wander. Aalst: Day Night 2008/2009, the installation and POSE – the surrealistic house, video presentation
Artistic co-operations, group performances:
X 2017 MUSEUM OF TEXTILES in Lodz, animation Workshop of machine embroidery (with Justyna Apolinarzak)
VIII 2017 MUSEUM OF CINEMATOGRAPHY in Lodz, animation Dream city (with Justyna Apolinarzak)
II 2017 O!PLA 2017, animation Dream City (Apolinarzak and Ostajewska) on the 5th National Festival of Polish Animation in the Off and Go category (main Competition O!PLA 2017)
XII 2016 BOOK ART MUSEUM in Lodz, animation Dream city (with Justyna Apolinarzak)
X 2016 KSIĘŻY MŁYN in Lodz, group performance Stop-motion 3.1.
IV 2016 THE OLD TRADING HOUSE MAGDA in Lodz, Poland, squeal (the group performance)
XI 2014 BOOK ART MUSEUM in Lodz, group performance Stop-motion 2.1.
XII 2013 FACTORY OF ART in Lodz, video and exhibition Ksiezy Mlyn (with Justyna Apolinarzak and Suavas Lewy)
XI 2013 THE MUSEUM OF THE HISTORY OF POLISH JEWS in Warsaw, performance inside and outside (with the Association of Art New)
X 2012 LODZ KALISKA RAILWAY STATION, performance with the international collective from Berlin Das Ist Doch Keine Art!
X 2012 POSIADŁO KSIĘŻY MŁYN in Lodz, creation and coordination of the group performance art STOP-MOTION
XII 2011 BAJKONUR in Lodz, video and performance Liaisons Dengereuses (with Marcelo Zammenhoff, Maria Apoleika)
VI 2009 THE POLISH CULTURAL INSTITUTE in Brussels, participation in the performance of Pawel Althamer Common case
VI 2009 MAYDAY MAYDAY, CAMPO VICTORIA in Gent, POSE – the surrealist house with Veerle Michiels, performance art
XII 2008 S.M.A.K in Gent, International Colloquim Skin/Huid/Peau/Hada, group performance
V 2008 MAYDAY MAYDAY, NIEUWPOORTTHEATER in Gent, De houtzee/Drewniane morze (by Rene Van Gijsegem), group performance
III 2007 THEATER MINARDSCHOUWBURG in Gent, video with Diederick Nuyttens for the performance/theater play: Obsessive stories 7.1, directed by Alvaro Guimaraes
I 2006 CROMBEEN INSTITUTE in Gent, The process in Crombeen with Michael de Schaetzen, documentary
Conferences:
X 2017 BERGEN KUNSTHALL in Norway, presentation during a seminar Reality in Art: Do We Want to Differentiate? (PAB OPEN 2017)
XI 2014 ESAP in Porto, presentation during the conference Dramatic Architectures. Places of drama Drama for places with Performative street's tales in the context of phenomenology of space (site-specific dance and performance art)
VI 2014 UNIVERSITY OF BIELSKO-BIALA, presentation during the conference Revolting Peripheries with "Castways thrown on the shore"– Kantor's found objects and their role in art performance in the context of object oriented ontology and anthropology of things
I 2014 BUNKIER SZTUKI in Krakow, presentation during the conference The (imaginary) strategies in the presence of a cultural landscape with 'If These Walls Could Talk' – site-specific performance i.e. ontological fence and jump through it
IV 2013 UMCS, University of Lublin, presentation during the conference Modern and postmodern adventure of the body with Body metamorphic – transformation and hybridization of the body in the contemporary art (performance / dance / body art)
IV 2013 UMCS, University of Lublin, presentation during the conference I dance, therefore I am. Philosophy and Dance with Dance and space – the street stories in a performative context of phenomenology
Publications:
IX 2017Zombie body: interactive sculpture, technological incubator or a gravitational landscape? Redefining corporeality in the quest to create a symborg based on Stelarc Suspensions [in:] Body and postmodernity. In the circle of art, University of Gdańsk, ISBN 978-83-7865-489-6, 2017.
VI 2017 Blurred (comics&collage) [in:] "Angelaki journal of the theoretical humanities" v. 22 nr 2, Routledge Taylor&Francis Group, ISSN 0969-725, June 2017.
XII 2016 "Woof Woof Arf Arf" nr 3 (Black Hole) (editor)
XII 2015 "Woof Woof Arf Arf" nr 2 (Canis Vertigus) (editor)
2015 FILLin project – artistic activities (soundwalks, performances, knees-up, 'Food for the story') in Księży Młyn, post-industrial district in Łódź [in:] "Art & Documentation" nr 12, ISSN 2080-413X, Gdańsk 2015.
IX 2014 "Woof Woof Arf Arf" nr 1 (Cordyceps) (editor)
I 2014 The festival born from the desperation – Homo Novus in Riga, http://www.teatralia.com.pl/festiwal-zrodzony-rozpaczy-homo-novus-rydze/
Workshops:
X 2014 THE DESIGN FESTIVAL in Lodz, leading workshop Synesthesia
X 2013 THE THEATER FESTIVAL LIVE!, leading performance workshops in Crimea and at the Academy of Fine Arts in Kharkov, Ukraine
IX 2013 SHARED SPACE at Zbigniew Raszewski Theatre Institute in Warsaw, participation in the international workshop SharedSpace: Music Weather Politics 2013 / 2016 (Prague Quadrennial / Theater Institute Warsaw / ProHelvetia)
IX 2013 HOMO NOVUS in Riga, participation in the international workshop Open Circle Lab related to site-specificity, during the Festival Theatre Homo Novus in Riga, Latvia (selected 16 artists from Latvia, Polish and Swiss)
I 2013 PREXER THE CITY POINT OF CULTURE in Lodz, Education at the gates organized by the Goethe Institute and the Topography Association in Lodz. The art actions: Inflate culture and The general rehearsal
IX 2012-IV 2013 LODZ-MILAN, Intermediary Seminar I, Here and Now in Milan with the students from The Academy of Fine Arts in Lodz, participation and coordination
ENGHUM
The Twinning Project Engaged humanities in Europe: Capacity building for participatory research in linguistic-cultural heritage (ENGHUM)
VIII 2017 The field school in the Nahua-speaking community of San Miguel Xaltipan (Tlaxcala, Mexico)
VI 2017 Leiden summer school Language, Heritage and Transdisciplinarity in Leiden University
III 2017 Workshop Developing practical skills for transforming documentation into multi-dimensional materials for transdisciplinary humanistic research in the University of Warsaw
IX 2016 The Field School of revitalization and language documentation in Wilamowice
VI 2016 The summer school Transdisciplinarity in Language Documentation and Revitalisation in School of Oriental and African Studies (SOAS) in London
V 2016 Training session Teaching minority languages, methodology and curriculum development. Practical applications, understanding societal and cultural challenges
III 2016 Training session Capacity building in methodology and theory of transdisciplinary research on cultural and linguistic heritage
Reference:
"Marta worked with different media: mixed media, photography, installation, drawing and especially site specific activated space and performance in which she showed an outspoken sense of strong visualisation, and personal view on bodies in action. She showed her talent and skills in several theaterplays (De Houtzee) and actions at among others Campo Nieuwpoort in Ghent. I admire her strong motivation, working power and talent. I hereby strongly wish to recommend Marta Ostajewska as a promissing visual artist with international potention. We all should permit her to improve her skills and develop her promissing carreer."

Sjoerd Paridaen, artist/teacher at KASK
"As a mentor at School of Arts (KASK) in Ghent (Belgium) I had the pleasure of working with Marta. From the first meeting it was clear that she is very talented. Her sensibility towards language (writing, bring language on stage) is exceptional. She has also the talent of creating a strong, intelligent image. She knows that every 'place' has its own psychology and she knows how to show that to the spectator: very important for a performer. I'm sure that she can add something new and special to the great tradition of Polish theatre/performance. You can always contact me for a further information."

Peter Verhelst, writer/director at NTGent